CLIMATE ISSUES TO WATCH IN 2022:
A YEAR FOR MORE ACTION AND BIGGER AMBITION
* Source : United Nations Foundation
Several major developments in the global effort to confront the climate crisis took place this year: the return of the United States to the Paris Agreement; the release of a new Intergovernmental Panel on Climate Change report that, in the UN Secretary-General's words, served as a "code red for humanity"; the elevation of the climate emergency to the top of the agenda across capitals, statehouses, and boardrooms around the world; and more.
These and other complementary efforts culminated at the 26th United Nations Climate Change Conference in November in Glasgow, Scotland. COP26 succeeded in delivering meaningful climate action and ambition, but the agreement struck in Glasgow still fell short of what is urgently required to put the world on a pathway out of the climate crisis.
Time is not on our side, so in 2022 it is imperative to build on what was achieved and succeed where we have previously failed. Here is a snapshot of what we see as the current state of play and what we will be watching for next year in six critical areas:
1. THE ROAD TO SHARM EL-SHEIKH
The most anticipated UN Climate Change Conference since countries met in 2015 to negotiate the Paris Agreement, COP26 served as an important deadline to raise national climate targets and meet climate finance commitments.
The good news is that 151 countries committed to enhanced 2030 emission reduction targets, and many of them — including those announced by the European Union (EU), India, Kenya, Nigeria, the UK, and the United States — were significantly strengthened.
Other countries, however — including Australia, Brazil, Russia, and, most troublingly of all, China — did very little, if anything, to raise their ambition. If these new goals are realized, the world would still be on a trajectory of about 2.4°C of warming.
And while that is undeniably better than the catastrophic pre-Paris 4°C trajectory, it is not yet in line with the Paris Agreement goal of limiting warming to below 2°C — much less the 1.5°C goal that scientists consider the maximum threshold of warming that the planet can safely sustain.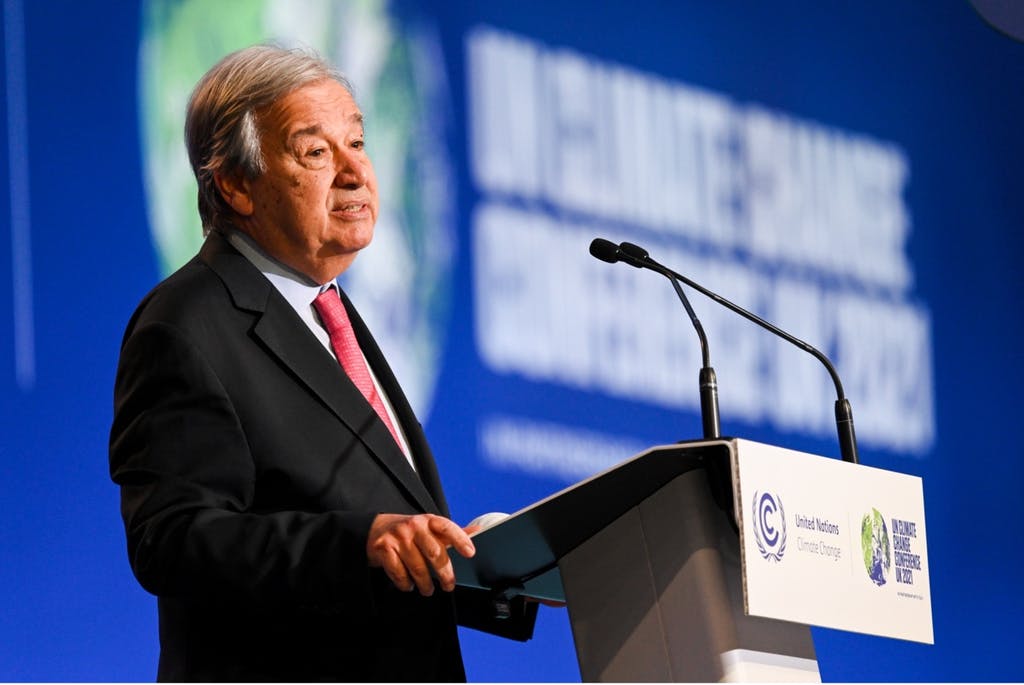 Also at COP26, an unprecedented number of multistakeholder coalitions and initiatives spanning national and subnational governments, the private sector, philanthropy, and civil society was launched, a strong indication that support for climate action continues to grow.
Highlights include a Global Methane Pledge that 105 world leaders signed on to; a separate U.S.- and EU-led initiative to cut methane emissions by 30% by 2030; an agreement to create zero-emissions shipping lanes; an initiative to spur investment in climate-smart agriculture and food system innovation; and an $8.5 billion pledge by France, Germany, the EU, UK, and U.S. to an innovative new program that will help South Africa decarbonize its coal-heavy energy system.
What we're watching for in 2022
Countries have no time to lose, as the clock to COP27 next year in Sharm El-Sheikh, Egypt, is already ticking.
Pete Ogden, the UN Foundation's Vice President for Energy, Climate, and the Environment and Ryan Hobert, our Managing Director for Energy, Climate, and the Environment, say the critical question is whether countries will take meaningful and credible steps next year to accomplish what they committed to in Glasgow.
This includes commitments to revisit and strengthen their climate pledges by the end of 2022 in order to keep the 1.5°C goal within reach; to phase down coal and end fossil fuel subsidies; to fulfill their unmet climate finance commitments while also doubling the amount of support to developing economies for adaptation; and to establish a dedicated space to address the permanent harm that climate has inflicted (referred to as losses and damages) on developing economies.
2. CLIMATE FINANCE
Pressure to deliver climate finance was particularly high this past year, with developed economies owning up to the fact that they had collectively failed to fulfill their commitment to mobilize $100 billion per year starting in 2020.
And after years of ignoring the issue, loss and damage was a clear priority for COP26 thanks to the persistent efforts of vulnerable countries. But in the end, the Group of 77 proposal for a "Glasgow facility for loss and damage" did not come to fruition. Instead, a dialogue on finance for loss and damage will run until COP28 — a searing disappointment for countries on the front lines of climate change that need help adapting to catastrophic impacts now, not later. Nevertheless, there were pockets of progress at the COP, including new pledges to multilateral funds, to double adaptation funding by 2024, and to phase out fossil fuel subsidies.
"After years of ignoring the issue, loss and damage was a clear priority for COP26 thanks to the persistent efforts of vulnerable countries." - Climate and Environment Experts, UN Foundation
What we're watching for in 2022
While some progress was made on climate finance in Glasgow, the issue was far from resolved, and several major questions will loom over 2022, according to David Levaï, our Fellow for International Climate Policy and Diplomacy.
For instance: How will multilateral development banks support resilience and clean energy deployment in developing economies without adding to already high debt burdens? How will donor countries harmonize their bilateral aid requirements to facilitate and accelerate access to funding? And what new mechanisms can developed economies create to support countries facing irreparable losses? As Africa hosts the next COP, the Egyptian presidency will aim to land as much progress as possible on these existential issues.
3. FOOD SYSTEMS AND CLIMATE CHANGE
Global food systems — and their relationship to climate change — received a new level of attention in 2021. The UN Secretary-General's Food Systems Summit, which took place during the General Assembly in September, featured food and agriculture both as a sector heavily affected by the climate crisis and as a major source of greenhouse gas emissions.
Just a few weeks later, at COP26 in Glasgow, food became a major topic of discussion in light of several significant new government commitments. For example, commitments were made on slashing methane emissions, nearly half of which come from livestock, and on preserving forests, rather than cutting them down to make way for agriculture.
There was also significant investment in food system innovation through a U.S.- and United Arab Emirates-led initiative called the Agriculture Innovation Mission for Climate, or AIM for Climate, which 35 countries and several dozen nongovernmental partners committed to support.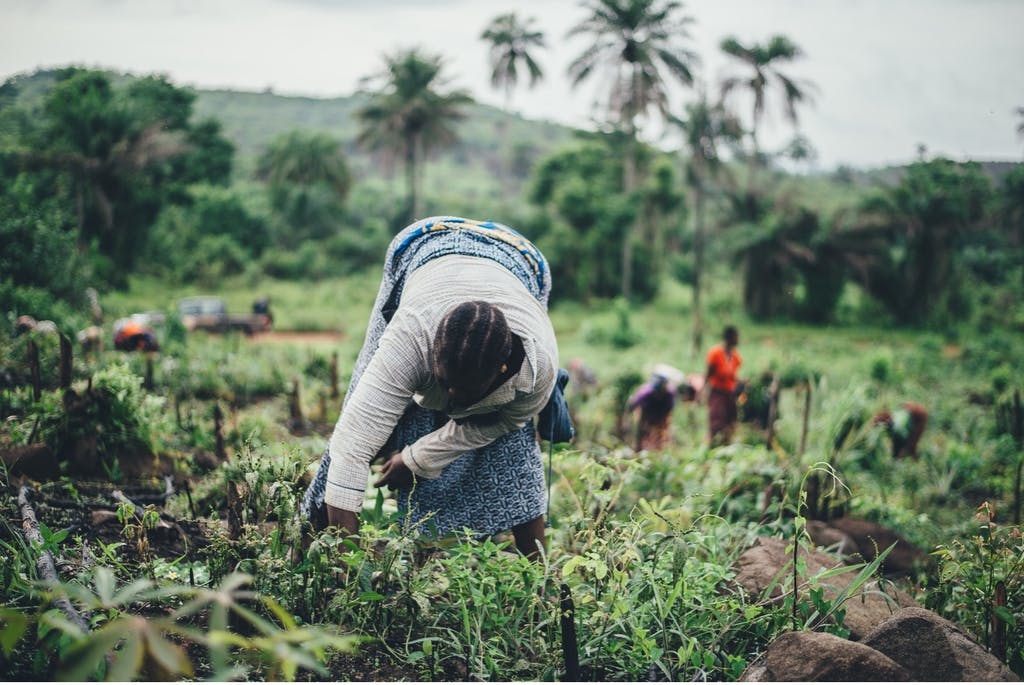 What we're watching for in 2022: Food systems will need to play a much more prominent role in the fight against climate change in the year ahead, according to Ryan Hobert and Evelin Tóth, the UN Foundation's Senior Analyst for Climate Policy and Research.
Countries and their partners will need to ensure that the commitments made — through their nationally determined contributions and other recent pledges — are delivered. COP27 will be a major test for food and climate.
The COP's "Koronivia" expert workshop series on agriculture will conclude, but it has the potential to shift toward a focus on implementation in its next phase; moreover, Egyptian officials have already indicated that food will feature prominently at COP27, potentially with a thematic day dedicated entirely to food systems.
As global attention to food and climate issues continues to grow, farmers — especially smallholder farmers in the poorest countries — will need much more attention and support to weather the challenges they face on the front lines of the climate crisis.
4. THE OCEAN
The ocean, deservedly, received more attention than ever at key international events this year, including at COP26 and the UN Food Systems Summit, where its role in achieving the Sustainable Development Goals (SDGs) was made clear.
The UN's Decade of Ocean Science for Sustainable Development, which focuses on the development of ocean-based solutions for all the SDGs, also was launched in 2021. New attention on ocean issues from the U.S. and other major national governments and from private sector players such as Amazon also elevated a range of ocean-based mitigation solutions, from investing in blue carbon to decarbonizing shipping.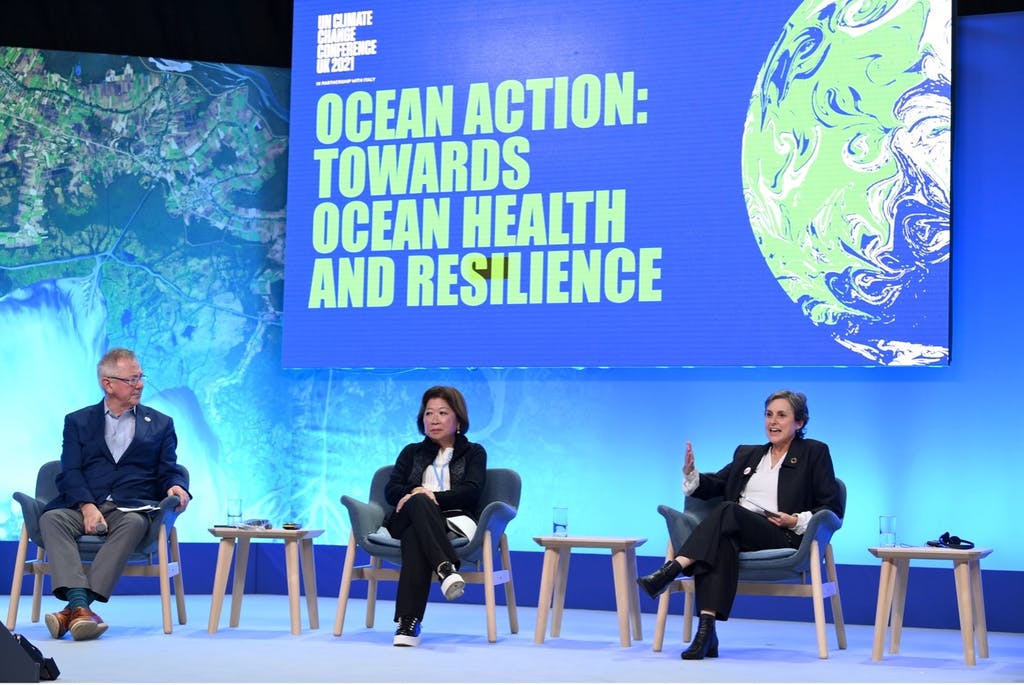 What we're watching for in 2022: Susan Ruffo, the UN Foundation's Senior Advisor for Ocean and Climate, says the coming year will provide an opportunity to further galvanize the ocean community and raise the profile of ocean solutions for the SDGs, while helping to improve how ocean issues are integrated into global climate strategies and processes.
"The coming year will provide an opportunity to further galvanize the ocean community and raise the profile of ocean solutions for the SDGs."Susan Ruffo Senior Advisor for Ocean and Climate, UN Foundation
One key moment to pay attention to is the first ocean-climate dialogue to be held under the COP26 mandate to ensure that ocean issues are more firmly rooted in the formal climate negotiation process.
In addition, two major international convenings, Our Ocean and the UN Ocean Conference, will take place in the first half of 2022 and are expected to catalyze new commitments from governments, civil society, and the private sector. Look for increased emphasis on ocean-based adaptation and financing for ocean-based climate action generally.
5. INTERGOVERNMENTAL PANEL ON CLIMATE CHANGE
The Intergovernmental Panel on Climate Change (IPCC) once again made headlines in 2021, this time with the August release of its report on the physical science of climate change.
It found that the window of opportunity to limit global temperature increase to under 1.5°C is quickly narrowing, and that bold, immediate action will be required to keep it from closing altogether.
Fortunately, this alert was heard loud and clear around the world: The report received three times as much media coverage as the IPCC's landmark 2018 report on the impacts and implications of 1.5°C of global warming, the previous benchmark.
What we're watching for in 2022: The IPCC will be concluding its sixth assessment cycle in 2022 with three report launches: one on impacts, adaptation, and vulnerability (expected in late February); one on mitigation (expected in early spring); and the final synthesis report that will weave together and summarize findings from all three working group reports and its three special reports from this cycle (expected in September).
Alix Kashdan, the UN Foundation's Senior Manager for Climate and Environment, contends that because these reports will contain the best and most up-to-date scientific assessment yet on the impacts of climate change and potential solutions, each has the potential to a be a seminal moment in 2022 that can inform, shape, and drive the global climate conversation powerfully forward toward COP27 and beyond.
6. SUBNATIONAL ACTION ON CLIMATE
Once again in 2021, we saw the power of partnership and the strength of collective subnational climate action demonstrated by states, cities, and the private sector.
In the U.S., the Biden Administration was able to hit the ground running with its new federal climate agenda in large part because of the foundation of ambitious climate action laid by these subnational coalitions, including the bipartisan U.S. Climate Alliance, which has its secretariat housed at the UN Foundation. In 2021, the Alliance also upped its own ambition, committing to collectively achieve net-zero emissions as soon as practicable, and no later than 2050, and to reduce collective net greenhouse gas emissions at least 50-52% below 2005 levels by 2030.
What we're watching for in 2022: In the U.S., there will be additional opportunities for subnational parties to pursue new, ambitious, and innovative policies, while also influencing and supporting further federal action. The U.S. Climate Alliance says it will be keeping a close eye on what more the Administration and Congress can achieve on climate ahead of midterm elections, and what new opportunities this will create for partnerships between federal and subnational actors.
---
2021.10.30 - [기후] - [Climate] 5 Takeaways from IPCC Climate Report
2021.10.13 - [정책] - [Pledge] 'Global Methane Pledge' (국제메탄서약)